We've all seen them. These Facebook hoaxes that seem to never go away. Today I'm going to delve into the muddy waters and look at some of these hoaxes.
These Facebook hoaxes include:
Keep Facebook from owning your photos.
Get rid of ads
Facebook is going to start charging
You will soon have to give an ID in order to use Facebook
They are going to start limiting your posts to only 25 friends
Now most intelligent people know that these are hoaxes, but why do so many people share them?
Let's look at them one by one. Note that I didn't correct the spelling and/or grammar on these Facebook hoaxes.
This article isn't about scams. I wrote about those here.
Keep Facebook from owning your photos
"An attorney advised us to post this. The violation of privacy can be punished by law. NOTE: Facebook is now a public entity. All members must post a note like this. If you do not publish a statement at least once, it will be tacitly understood that you are allowing the use of your photos, as well as the information contained in your profile status updates. I HEREBY STATE THAT I DO NOT GIVE MY PERMISSION. Copy and re-post."
It was late 2012 when this Facebook hoax started showing up. That's around when Facebook went public.
And according to Facebook's Terms of Service:
"You own the content you create and share on Facebook and the other Facebook Products you use, and nothing in these Terms takes away the rights you have to your own content," Facebook says. Specifically, when you share, post, … you grant us a non-exclusive, transferable, sub-licensable, royalty-free, and worldwide license to host, use, distribute, modify, run, copy, publicly perform or display, … your content. This means, for example, that if you share a photo on Facebook, you give us permission to store, copy, and share it with others. You can end this license any time by deleting your content or account. … In addition, content you delete may continue to appear if you have shared it with others and they have not deleted it."
So basically, if you put it on Facebook, you can remove it. However, if someone else has shared it, that copy will still be there.
Facebook Now Requires an ID
"Important facebook announcement Effective March 31 2014".
"Facebook will be requiring all users to send in a photocopy of their drivers license/personal id. to verify their identity. All users who fail to do so will have their accounts deleted. Users whose account names do not match the name on their id will be deleted as well. Here at facebook we are committed to the safety and security of all of our users. We hope that you will understand and look forward to your compliance as we work to make facebook the safest social network site available."
Sincerely,
Mark Zuckerberg"
First of all, like him or not, I believe Mark Zuckerberg is better at grammar than this. Or at least he has people to proof read.
Second, how often have you seen him issue policy changes on the platform?
This is simply another Facebook Hoax.
Maybe the reason was to drive people off of the service.
Facebook is charging for service!
Around 2009 another Facebook hoax hit.
From Saturday morning facebook will become chargeable. If you have at least 10 contacts send them this message. In this way we will see that you are an avid user and your logo will become blue (?) and will remain free. (As discussed in the paper today. Facebook will cost 0.01ps per message. Send this message to 10 people. When you do the light will turn blue otherwise facebook will activate billing.
There are many other versions of this hoax, and like the others, it won't go away.
Other versions state that Facebook is going to start charging $9.99 per month for gold member services, $6.99 per month for silver member services and $3.99 per month for bronze members.
This Facebook hoax reminds me of a chain letter, but some of these messages also contained a link to a petition where you could protest these changes. That link took the unsuspecting victim to a site containing malware that would allow crooks to take over someone's computer.
Upgrade the system
This Facebook Scam is the biggest one currently making the rounds.
Update— this morning back to my entire feed was ads. After i did this all I see is my people again. I'm not sure how it works, but it did??
To regain friends in your news feed and get rid of ads – Hold your finger anywhere in this post and click ′copy'. Go to your page where it says 'What's on your mind?' Tap your finger anywhere in the blank field. Click paste. This upgrades the system.
Hello new and old friends!🥰
It's sad we have to keep doing this to kill the Ads and see our friends!
Hope it works..I'm missing seeing lots of fb friends
Folks, Facebook is an advertising company. Why would they offer a service that stopped people from seeing their ads?
Also, who in their right mind would think that copying some text into a post would "upgrade the system"?
One idea I had for the reason for this Facebook hoax was that somehow the text contained some sort of code that could somehow infect a computer, but upon inspecting the html coding I couldn't find anything.
So the purpose of this Facebook hoax remains a mystery.
Facebook limiting status updates in news feed to 26 friends
My friends are littering my Facebook feed with this… true or false?:

"How to avoid hearing from the same 26 FB friends and nobody else:

Newsfeed recently shows only posts from the same few people, about 25, repeatedly the same, because Facebook has a new algorithm.

Their system chooses the people to read Your post. However, I would like to choose for myself: if you read this message leave me a quick comment, a "hi", a sticker, whatever you want, so you will appear in my News Feed. I MISS YOU!

Do not hesitate to copy and paste on your wall so you can have more interaction with all your contacts and bypass the system. That's why we don't see all posts from our friends.
This Facebook hoax sometimes is combined with the "Upgrade the system" one, as unless you copy and paste the certain text you will only see posts from 26 friends.
I guess this could be a Facebook hoax BOGO
Now, to be fair, Facebook did issue this statement to businesses:
Today we use signals like how many people react to, comment on or share posts to determine how high they appear in News Feed.
With this update, we will also prioritize posts that spark conversations and meaningful interactions between people. To do this, we will predict which posts you might want to interact with your friends about, and show these posts higher in feed.
Like I said, this was for businesses, And they didn't say that they were going to limit the posts they see, but which ones float to the top.
And they do that anyway. When you comment on or "like" a post, Facebook will show you more posts like that.
And you can always sort your feed chronologically. To do that, on a PC, on the left side, click on the 9 dots ("see all"), then "Most Recent". On mobile, tap your profile pic, then "feeds".
(The photos below are from Windows and Android. MacOS and iOS should be similar.)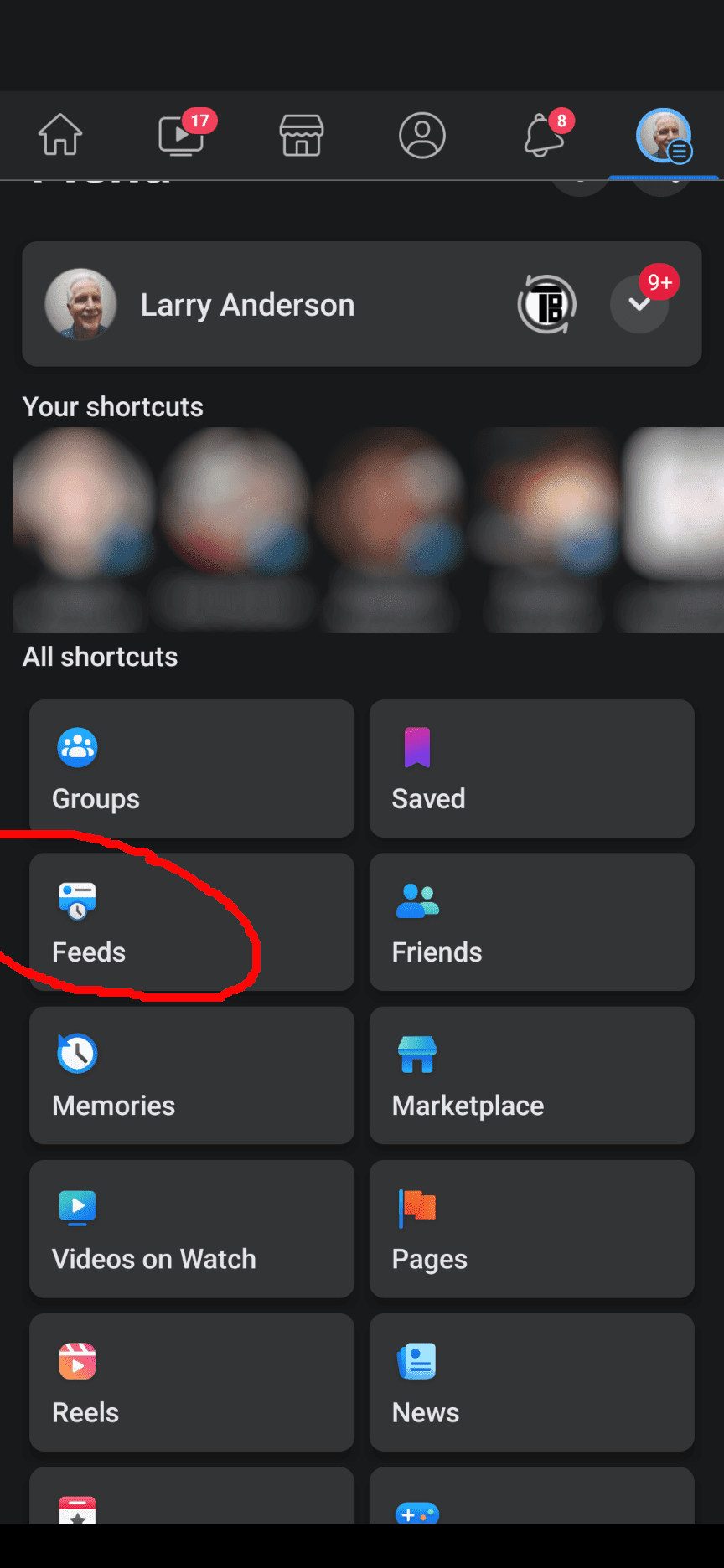 But a warning on this: If you belong to any Marketplace groups, those posts will be most of what you will see now.
Why share these Facebook hoaxes?
To be honest, sharing these Facebook hoaxes doesn't make you look smart. Please check things like this out before you share. Your friends will be grateful.
If any of you ever have a question about one of these posts, please leave a comment below or email me at larry@thetechboomer.com.